I've been having WordPress problems. For reasons yet-to-be explained I have been having terrible logging-on problems
News-wise, it has been a year (so far) of doing a lot of "stuff" both for the Romantic Novelists Association and my local authors group, Promoting Yorkshire Authors.
With PYA we are still arranging, very successfully, author talks and panel discussions at various libraries. We were absolutely delighted to see Harrogate Library who have been amazingly supportive from day 1, be awarded "The Nibbie" as the Booksellers Library of the Year! Well done everyone there, but especially Jane Trigoso, who is our main contact there.
The next item in the plans is to carry out some author training to help members make good choices if going down the Indie road.
I am back writing, too – which is good. I just wish they made more hours in each day though.
I'm also doing a lot of back-office stuff for the RNA. The author profiles continue to come in in drips and drabs, the York Tea and the Joan Hessayon Awards are (hopefully) all prepared (September 14th, at the Merchant Taylor's Hall). At the time of writing we have exactly ONE ticket left out of 110.
Next year, the RNA is celebrating its 60th birthday. It is certainly a different world to 1960. At dinners and events back then, furs, jewellery and long white gloves would be worn. A toastmaster would announce the guests and members as they arrived, and Denise Robbins and Barbara Cartland would stand to "receive" each arrival! I have had the privilege of access to the RNA archives, in search of suitable items to make up a PowerPoint presentation to illustrate 60 years of the RNA. There's not a lot so far – because early editions of RNA News were typed and duplicated. What photos there were are not suitable for scanning and putting into a presentation.
One new venture this year has been attending a number of "signing events". I went to a couple last year just as a visitor. This year I had "half tables" at four, in Leeds, Sheffield, Blackpool and Bradford.
They do seem to be the way the Romance market is going. Taking Leeds as an example, there were 70 authors, and of those 90% described themselves as Romance Authors. They are VERY productive, bringing out at LEAST a book a year, they have a loyal readership and fanbase, and they work very hard selling themselves and their books on live and via social media. Of the 70 authors there, they included another 5 RNA members, and the attending authors are the natural recruiting ground for the RNA. Their age demographic extends from early 20s up to around 60s.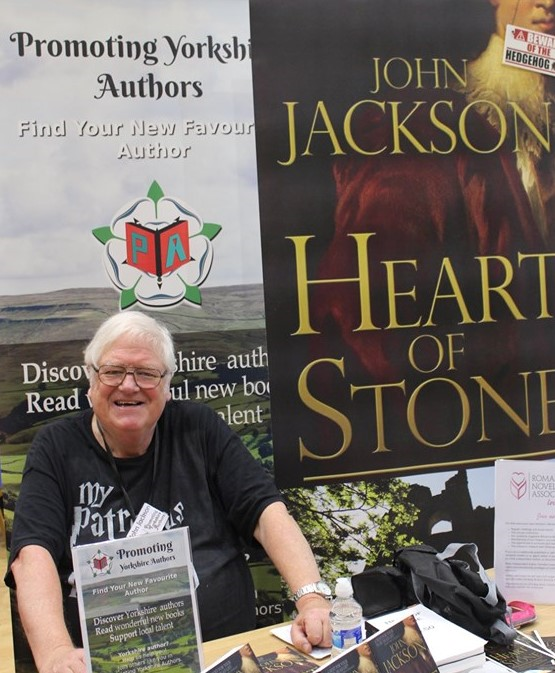 Some of them had well in excess of 50 pre-orders! Some attending readers were going home with trolley boxes FULL of books and "swag". Having a "half-table" was worth it just for the ability to sit down. My back and my leg just don't like prolonged standing.
The daddy of them all is the "Romance Authors and Readers Event" at London's Olympia. This sells out every year, and will have over 200 indie authors, a lot of them American. Attending is no light matter, either – with tickets going for £45. I'll stick with Leeds – £10. (£35 for my half table). I sold a few copies. Not enough to make it a paying proposition, but like an RNA party, it is ALL about the people!
All about the people is, of course, a really good description of the RNA Conference. I've already posted all the photos. Basically, for me, its three days of fun, chat and learning with 270 very good friends.
The next blog post will be after the York Tea! The best of luck to all the contenders for the Joan Hessayon Award. In my book, you are all already winners!